Pronounced "Par-ma-lee".
History of Parmele:
The two most important developmental forces in Martin County, the arrival of railroad transportation and the proliferation of profitable lumber mills combined to become major catalysts for the birth of Parmele.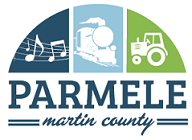 The Wilmington and Weldon Railroad began construction around 1890 to extend its north-south line down through Martin County on a location near the Parmele-Eccleston Lumber mill. This chosen tract of land centering on the Albemarle and Raleigh Railroad developed so rapidly after the line was completed that on February 14, 1893 the General Assembly incorporated it into the town of Parmele. In 1895, a third railroad line was extended from Parmele southeasterly to Washington making this newly-formed town the junction of railroad lines leading in five directions. By 1896 it had two lumber mills, ten general stores, one confectionery, and a population of 200 residents. A devastating fire in 1904 destroyed much of the town's business sections along the railroads and, along with the declining available timber, may have accounted for the closure of those two lumber companies.
During the 1910s, Parmele became noted as the location of a very successful industrial institute for African-American children. Directed by Dr. William C. Chance, the institute taught not only academic learning but also agricultural, mechanical, and home-making skills. After a merger with the town's public school, the Parmele Industrial Institute was moved into the first brick school building erected for either race in Martin County. The institute achieved regional acclaim, eventually occupying a six-building campus. Unfortunately, the main structure was destroyed by fire in 1954 causing the school to be consolidated into Robersonville's public school for blacks.